【Installs on uneven ground, no need for trees】
Suspended on the included poles, the chair swings smoothly and gently no matter how rocky, sandy or uneven the ground is below. It's like a rocking chair and a hammock had a child perfectly built for camp life.
【Durable, camp-ready construction】
Water-resistant mesh lets air flow freely, stands up to sun exposure and resists the build-up of odor-causing bacteria, so go ahead and recline by the shore in heat of the afternoon. When you're ready to pack up, the chair's aircraft-grade aluminum suspension frame breaks down quickly and compactly.
【Lean back with a quick shift of your body weight】
A supportive headrest lets you really enjoy the view without craning or straining your neck, and when you sit up the back shifts to support a more upright position. Oh, and the armrests are padded, too.
【This first-ever swinging and reclining camp chair takes relaxation to a new level】
The swinging offers an exciting new sitting experience, with a relaxing motion that is designed for comfort. And when you're ready to recline, lean back and enjoy a great view of the stars. Unlike rocking chairs, this chair is designed for use on any surface, including rocky, sandy or uneven ground, bringing the relaxation of motion to a host of new environments.
【Synthetic】
The Recliner Luxury swings smoothly and gently, with a relaxing motion that is designed for comfort; A supportive headrest and deep reclining action allow you a full view of the night sky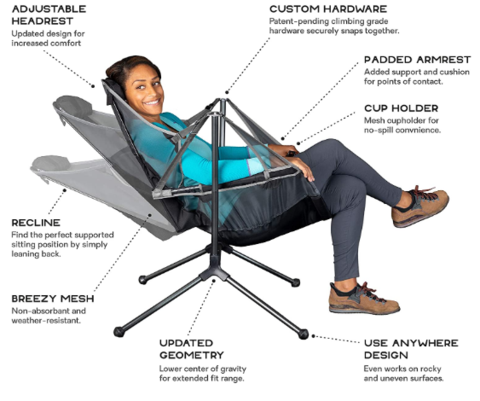 Features
Suspended air-rocking and reclining chair swings smoothly and gently on any surface, including above rocky or sandy surfaces
Auto-reclining hardware lets you lean back and stretch out without the use of runners
Aircraft-grade aluminum suspension frame is sturdy and packs down quickly and compactly
Water-resistant mesh resists the buildup of odor-causing bacteria and stands up to sun exposure
Padded armrests are comfortable for lounging in the backyard or at the campsite
Chair swings smoothly and gently, with a relaxing motion that is designed for comfor
Integrated cup holder keeps a beverage within arm's reach
Stash pocket accommodates a tablet, keys or a favorite book
Padded carrying case has a convenient interior storage pocket
Technical specs
| | |
| --- | --- |
| BEST USE | Camping |
| UNFOLDED DIMENSIONS | 45.5 x 36 x 25.5 inches |
| FOLDED DIMENSIONS | 7 x 24 inches |
| | |
| WEIGHT CAPACITY (LBS) | 300 pounds |
| SEAT MATERIAL(S) | Water-resistant nylon mesh |
| FRAME CONSTRUCTION | Aluminum |
| WEIGHT | 6 lbs. 5 oz. |
Free Shipping All Over the World.
We are committed to improving our service and our customers' shopping experience. We use different methods of delivery because such application of different methods suitable for different countries and regions is able to make the time of transport as shortest as possible, and also assures the safety and convenience of the transport. We are able to deliver our goods to most countries in the world.
Under the normal circumstances, it takes us 2-5 days to process your order. After the goods are delivered, we will send the tracking number for your order to you through E-mail.
Delivery assured! If your goods are lost or checked, we will deliver them again.
Cautions:
If you provide us with a false address, we are not responsible for redelivering the goods.
We accept returns within 45 days of receipt for most items in new condition and return shipping is FREE!
Note:
1. Items received within 45 days from the delivered date.
2. Items must be returned unwashed, unworn, undamaged and in original packaging with tags attached.
3. Customers are responsible for return shipping.
4. Final Sale items cannot be returned, refunded or exchanged.
Return policy It is guaranteed that our products will meet every customer's needs. If you are not satisfied with the goods you have purchased for some reason, we will be willing to return or change the products for you, or get you a refund.